Why Choose The Floor Trader?
The Floor Trader is a locally owned and operated flooring store waiting to help you find the perfect carpet or floor for your home. The Floor Trader strives to be the best in the business when it comes to price, selection, quality, customer service, and best yet in-stock flooring. Shop the Floor Trader today!
At The Floor Trader, our customers tell us that when they decide to update their flooring, they want to see it, buy it, and have it installed at home as quickly as possible. We've been listening, and that's why we're dedicated to providing you with a shopping experience that is easy, fast, affordable, and fun!
The flooring experts you'll find in our stores are here to help you make the right choice. With their expansive knowledge of flooring options, you know you're in good hands, and you can have confidence in every decision you make. You're sure to find a floor that fits your space, your style, and your budget.
As a wholesale retailer, we receive terrific deals from flooring suppliers. Our great buys are your ticket to affordable flooring! We save on every purchase we make and are able to pass it on to you with exceptionally low prices on high-quality products storewide.
We also carry a huge selection of products in stock, so you can see the whole floor and not just a small sample. And if you find a floor you love, you can take it home today – no waiting! Shopping in stock is also a great way to save money since you're eliminating extra charges for additional shipping.
Northern Wholesale Flooring
Our Mission & Vision
At Northern Wholesale Flooring, our vision is to be Southeast Michigan's finest floor covering dealer as defined by you, our customer. Our Mission is to exceed your expectations in value, quality, and service while helping you create the home of your dreams. Our local business strives for a culture that values honesty, integrity, and community enrichment in our daily business practices.
---
Northern Wholesale Flooring is a family-owned full-service flooring specialty store serving North Oakland County for the last 34 years. We are proud of our strong reputation for providing our customers with knowledge, quality, and the best flooring selection in Oakland County.
Northern Wholesale Flooring has earned its reputation not just from its fine floors, but from a willingness to work closely with each and every customer to capture the look and feel of their dream floor. Our expertise includes carpet, hardwood, vinyl, laminate, and many specialty flooring options such as cork, bamboo, and hand-oiled hardwood to name a few. In 2021, Northern Wholesale Flooring won Best Flooring Store in Lake Orion, MI for the tenth year in a row.
Our affiliation allows us to combine our purchasing power with the largest coop of floor covering dealers in the country giving us the best pricing available on all types of floor covering. Whether you are building a new home or restoring new life to your existing home, reflect your own personal style through the uncompromising quality and craftsmanship with a floor from Northern Wholesale Flooring and Interiors.
The Floor Trader is expertly positioned to meet the demands of this consumer and to support the showrooms and designers that service them. Our ongoing efforts to help build the business of our members include exclusive new product offerings, custom marketing initiatives, and energetic use of digital media on the internet and social networks.

Community Engagement & Charities
Northern Wholesale Flooring has been an active member of the community for over 38 years. Join us in our efforts to give back to our wonderful community! Featured in Voyage Michigan, learn more about store owner Matthew Pfifer, his backstory with the Lake Orion community, and his entry into the flooring industry.
Real Men Wear Pink
On August 28th, 2021, Matt Pfeiffer, owner of Northern Wholesale Flooring began a 24-hour fundraiser benefiting the American Cancer Society. Our event "Making Strides for Breast Cancer" subsequently took place on Saturday, October 7th in Rochester's Municipal Park. Pfeiffer along with the Real Men of Orion team placed 13th in the National Real Men Wear Pink campaign.
If you would like to donate to Matt's cause click here.
For more information on events or how to donate, please visit our Real Men of Lake Orion Facebook page today.

Shop With a Hero
Shop with a Hero provides 100 + local children with a chance to shop with a firefighter, police officer, or military personnel for Christmas gifts. Light refreshments are served. Your $5 donation for the Shop with a Hero program earns you a chance to win fantastic prizes including a $400 rug and a $100 gift certificate to Honey Baked Ham. Northern Wholesale Flooring matches the first 100 tickets sold.

If you would like to donate prizes or refreshments to help support this great cause please contact Matt Pfeiffer at (248) 693-9457.
Operation Warm
During the 2021 holiday season, we are collecting any new/gently worn coats, jackets, gloves, hats, and scarves. All donations will be distributed throughout the community to people in need this winter. You may drop off any donations before, during, or after our business hours. If donating outside operating hours, you may place them in our vestibule. We will be collecting donations until Christmas 2021. Thank you all for your support!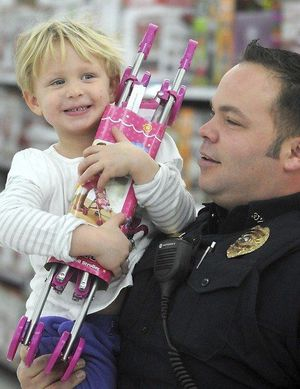 Additional Products & Services
Carpet
Carpet Padding
Carpet Remnants
Commercial Installation
DIY Services
Financing
Hardwood Flooring
In-Stock Product
Insurance Work
Interior Design Services
Laminate
Luxury Vinyl
Residential Installation
Contact us today and learn more about why we're Lake Orion's first choice for flooring! We proudly serve residents in Orion Township, MI, and surrounding communities.